We make exploration optional
It would be unusual to be headquartered in Houston, Texas and not encounter the complex, diverse and interesting array of energy companies in Southeast Texas. We have invested a great deal of time and resources learning and documenting the detailed and complex retirement savings plans at major players such as:
Exxon
Anadarko
Chevron
Halliburton
Shell
We have also discovered a great need among the thicket of support and development companies serving the major firms. This tier includes many exciting firms often created by 'petrotechs' and executives who have both the technical skills and entrepreneurial desire to enable them to venture out from the safety of their former employers.
Members of this community are often faced with complex issues resulting from Net Unrealized Appreciation in their 401k, partnership and stock ownership issues, and business equity and transfer challenges.
We have a book specifically for energy executives and professionals, "Platform for Wealth," written to help these successful professionals make informed decisions about their financial future. If you would like a free copy of this valuable book, please request your copy below.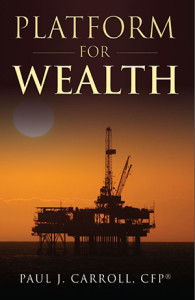 Platform for Wealth is a valuable guide for energy professionals in search of essential information about protecting and building wealth through portfolio and cash management strategies. Readers will gain insight into the complex benefit options available to energy professionals, as well as different disbursement strategies to generate income for retirees.