We Make Flying Optional
Efficient Wealth Management has helped many senior airline captains and executives navigate the shoals of the restructuring of the airline industry and the Pension Protection Act of 2006. We are second to none in our understanding and familiarity with United (Continental) and Southwest Airlines' complex retirement and benefits packages. We have access to their defined contribution plans and can help compare the difficult choices that are available in both their defined contribution and defined benefit (A-) plans.
Since September 11, 2001, the airline industry has been buffeted by high costs and reduced demand. For many, pensions have been frozen or terminated. Against this backdrop, more than 40% of United pilots are over 50 and approximately 3,300 of them will retire by 2020. It is no surprise our research indicates that 93% of senior pilots surveyed do not feel they have been successful in addressing their financial challenges.
Efficient Wealth Management will help address many of these challenges including:
Smoothing a variable income to prepare for retirement
Evaluating the annuity option vs. the lump sum option for pension plans
Leveraging Retirement Health Accounts (the VEBA) to best suit your needs
Protecting your family financially in the event that something happens to you
To better serve this community, we have recently published a book, "The United Pilot's Flight Plan for Wealth". If you would like a complimentary copy of this valuable book, please click request a copy below.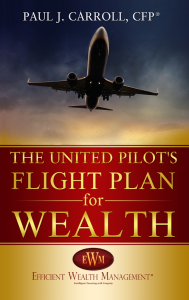 The United Pilot's Flight Plan for Wealth provides valuable guidance for pilots seeking to protect and build their wealth through portfolio and cash management strategies. The book also provides tailored recommendations for maximizing the impact of retirement and benefits options available to the pilot group.